HPT HiToms Release 2023 Schedule
---
High Point-Thomasville NC– The High Point-Thomasville HiToms will begin their 2023 schedule Friday, May 26th at Historic Finch Field. The Coastal Plain League campaign will start Thursday, June 1st when the Asheboro Zoo Keepers visit Historic Finch Field and conclude Saturday, August 5th at Forest City.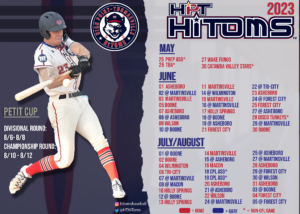 Entering their 25th season of Coastal Plain League play, the HPT HiToms are coming off a 2022 record of 27-25 and 25-25 in the Coastal Plain League. After finishing in second place tie for the final playoff spot in the Western Division, the HiToms are poised to make a trip back to the postseason with the recent addition of head coach Sean Stevens.
"It's an exciting time to be a part of the CPL and the HiToms organization as we release our 2023 schedule," Sean Stevens said, "With new leadership and a new roster, we look forward to making a first-half push and deep playoff run."
The Petit Cup playoffs begin August 6th and wrap up August 12th.
"We are thrilled to provide the HPT area with an expanded and more interactive game-day experience this summer," HiToms President Greg Suire said. "Our weekend schedule is stacked and with the incorporation of HiTom City into our stadium experience fans will be thrilled to be a part of the Finch Field action."
For a full schedule visit hitoms.com/schedule
Immediate Release: January 20, 2023
Contact: David Katz 704-787-1821