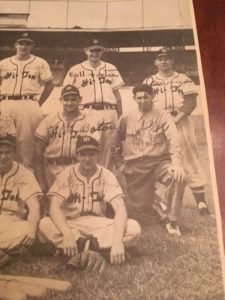 Generational. If you trace the pathway of baseball history far enough you might find that its journey started right next door. In 1948, Finch Field was the baseball capital of North Carolina. Sporting a squad that finished first in the North Carolina State League with a 67-43 record, the reincarnated HiToms were a band of veteran ballplayers with big numbers and long pedigrees. Featuring the league leader in wins, Al Jarlett (27), the N.C. State League batting champion, Jimmy Grudzis (.381), and former major leaguer Cliff Bolton, the newly renamed HiToms franchise was a juggernaut between the lines and beyond as well. Steamrolling the likes of Statesville, Mooresville, and Salisbury, the HiToms racked up both wins and fans. Attracting over 100,000 people to Finch Field in 1948, the HiToms easily distanced themselves by 30,000 fans from the league's second place attendance leader, Salisbury.
Baseball's transcendent power emanates from its magical storyline, its captivating stars, and its mythical legends. So despite the vast excitement created in 1948, the season ending storyline was like a banana split without whipped cream and chocolate, sweet but not memorable. Nineteen forty-nine, however, was a different story. Inundated with resounding victories and covered with batting titles and sold-out grandstands, the HiToms created a summertime dessert good enough to earn the moniker of "homemade."
Seventeen. Seventeen years old was Eddie Mathews in 1949 when he strolled into Finch Field's clubhouse. Years away from his induction into the Baseball Hall of Fame, 500th home run, 1957 World Series championship, and appearance on the cover of Sports Illustrated's inaugural issue, Mathews sauntered into Thomasville as a teenager in street clothes and a man in uniform.
Joining a team that would ultimately win 90 of 124 games and the N.C. State League championship, Matthews stole the show. Hitting .363 and 17 home runs in just 63 games, the teenage phenom instantly emerged as a star. Outshining Cliff Bolton, the 42 year-old High Point native and league batting champion (.399), and N.C. State League victory leader Lynn Southworth (21-1), Mathews established a laundry list of great plays and towering home runs. Crushing round trippers that sailed over Finch Field's back yard neighbor – National Highway – and snagging hard line shots as if suspended in the air, Matthews formulated his Hall of Fame journey through the wisdom of his HiToms teammates and the inspiration of his adoring fans. A true baseball legend was born on the green pastures of Finch Field.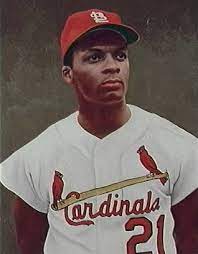 Arguably the second most recognizable player ever to don a HiToms uniform was 15-year major league veteran Curt Flood. A swift outfielder from Beaumont, TX,Flood later emerged as the first major league ballplayer to challenge Major League Baseball's ironclad reserve clause. Recognized universally by professional ballplayers as free agency's Joan of Arc, Flood gained nationwide notoriety for his refusal to accept a trade from his beloved St. Louis Cardinals to Philadelphia. Unfortunately, this tussle in the court system has saddled Flood's epitaph with stories of legal battles and holdouts, not his seven gold gloves and career .293 batting average.
Like Mathews, Finch Field served as Flood's launching pad. Leading the HiToms to a 91 win season and a first place Carolina League regular season finish in 1956, Flood dazzled the southern Piedmont with his powerful hitting stroke and his electric base running and defense. Patrolling the spacious outfield of Finch Field like an eagle soaring over his prey, Flood dominated the Carolina League with 29 home runs, 133 R.B.I. and a .340 batting average. Flood's monumental exploits earned him Carolina League Player of the Year honors and a late season call-up to Cincinnati. Although playing only five games with the Reds, Flood's rapid ascension to 'superstar' status earned him a one-way ticket to the big leagues for 14 more seasons.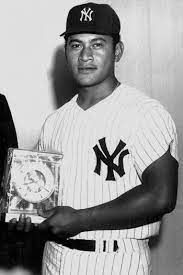 Two other former HiToms used their tenure at Finch Field as a stepping stone to major league success. Dallas Green, a 1957 HiToms starting pitcher, posted a 12-9 record for the second half Carolina League champions en route to a solid career with the Philadelphia Phillies. However, Green is more widely known for his success as a manager. Leading a scrappy group of future Hall of Famers – Pete Rose, Steve Carlton, and Mike Schmidt – in 1980 to the Phillies first world championship. Green was hailed as a feisty, motivational leader who expected perfection and received excellence.
Interestingly, Green was not the only former HiTom to make a name for himself as a big league manager. Jack McKeon, former manager of the Oakland A's, San Diego Padres, Cincinnati Reds, and of the world champion Florida Marlins, steered the HiToms express to the 1968 Carolina League championship. Piloting the HiToms through a rocky 69-71 regular season, McKeon ignited the troops in the playoffs behind the hammering bat of future major leaguer Tony Solaita. Solaita would rattle the fences of Finch Field with 49 home runs, 122 R.B.I., and a .302 batting average en route to winning Carolina League Player of the Year honors.
Although the professional baseball franchise at Finch Field did not officially become the HiToms until 1948, professional baseball in High Point and Thomasville dates back to 1920. A charter member of the Class D Piedmont League, the Furniture Makers posted a 57-57 record, good enough for a third-place finish. Three years later, the Furniture Makers became the Pointers. Fielding a team for nine more seasons, the Pointers eventually abandoned High Point because of financial problems. On an interesting note, Winston Salem's entry into the Piedmont League also experienced franchise problems in 1932 and relocated to High Point late in the season. Featuring future veteran major leaguers Hank Leiber and Al Smith, the relocated franchise lasted just a few weeks into the 1933 season.
The actual HiToms organization at Finch Field dates back to 1937. Known as the Thomasville Chairmakers in the Class D League of the Carolina State League, the Chairmakers were Finch Field's first occupants. Finishing with a 63-48 record in 1937, the Chairmakers changed their name to the Orioles in 1938 and energized their faithful fans in more ways than one.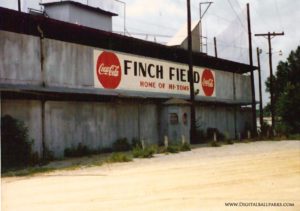 Streaking to a 75-36 regular season record, the Orioles featured the league's three best players. Second baseman Darr Shealy hit .357 with 114 R.B.I., outfielder Roy Pinkston finished second in the league batting race with a .356 average, and Pitcher Paige Dennis turned in one of the most dominating single season pitching performances ever, with a 28-2 record, 1.33 ERA, and 220 strikeouts.
Ironically, the team's exploits worked fans into such a lather that the Orioles championship series with Mooresville was suspended with the series tied at 3-3 because of fan violence. Nineteen-thirty nine saw the modern day HiToms change their name once again with the Finch Field nine renaming themselves the Tommies. Except for a two year suspension of league play in 1942 and 1943 because of WWII, the modern day HiToms fielded a team until 1959 when the franchise stopped play. Six years later in 1964, the HiToms resurfaced as a Minnesota Twins organization finishing 73-52 and attracting over 71,256 fans. One additional historical note, the HiToms nickname was born in 1948 following a plea on the part of  longtime, HPT HiTom player and manager Jimmy Grudzis.  Seeking a broader regional brand, Grudzis enlisted the assistance of High Point Enterprise Sports Editor Bill Curry who recognized the importance of aligning both neighboring communities (High Point & Thomasville). Thus, the name 'Hi-Toms' was created to capture the support of both communities.
Serving as a major league affiliate for the Cincinnati Reds, Philadelphia Phillies, Minnesota Twins, and Kansas City Royals, the HiToms/Pointers organization has featured 42 players who spent time in the major leagues.