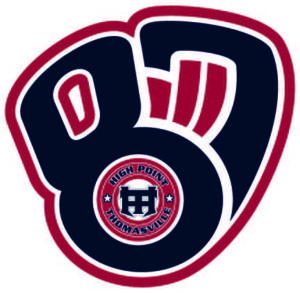 Welcome to the official page of the Post 87 HiToms. Post 87 is the Triad's premier American Legion baseball program serving aspiring student-athletes and a proud partner of the CPL High Point-Thomasville HiToms.
---
Area III Championships
2011, 2012, 2014, 2015, 2016 and 2020
State Runner-Up
2015
---

*Please check here and the official Post 87 Twitter account @87HiToms for schedule updates/changes.
Post 87  HiToms

DATE

DAY

Conf.

OPONNENT

SITE

TIME

SCORE

31-May

Wednesday

Davidson County

Finch Field

6:00

1-Jun

Thursday

 

Foothills

Truist Point

5:00

6-Jun

Tuesday

 

Foothills

West Stokes

7:30

12-Jun

Thursday

 

Davidson County

Holt-Moffit

7:00

14-Jun

Wednesday

x

Foothills

Finch Field

6:00

16-Jun

Friday

x

Foothills

West Stokes

7:00

17-Jun

Saturday

Rowan Co.

Newman Park - Catawba

7:00

20-Jun

Tuesday

 

Rowan Co.

Finch Field

6:00

24-Jun

Saturday

Louisburg

Fleming Stadium - Wilson

3:00

24-Jun

Saturday

Wilson Post 13

Fleming Stadium - Wilson

7:00

27-Jun

Tuesday

 

x

Randolph 45

Finch Field

6:00

29-Jun

Thursday

 

x

Post 53 Red Wings

Greensboro

6:00

30-Jun

Friday

x

Randolph 45

McCrary Park

7:00

1-Jul

Saturday

x

Chatham County

Jordan Matthews

7:00

3-Jul

Monday

x

Post 53 Red Wings

Finch Field

7:00

5-Jul

Wednesday

x

Chatham County

Finch Field

6:00
---
Hover title until red/Click the embedded link to view and or download
---
Athletic Director: Greg Suire
Email: [email protected] / Phone: 336-847-8667
---
Baseball Form 2 (All Players must fill out)
Player Registration Fee
Form 76 Player Transfer (Applicable for some players)
Form 77 Team Declaration (Applicable for Some Players)
Form 6 dual participation (Applicable for Some Players)
Hover title until red/Click the embedded link to view and or download
---
Hover title until red/Click the embedded link to view and or download
---
2023 STATS:
Hover title until red/Click the embedded link to view (Stats powered by GameChanger)