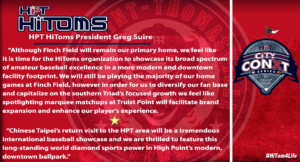 HPT HiToms Announce Conxt Series at Truist Point
High Point/Thomasville – The High Point Thomasville Hi-Toms and High Point Rockers announced today the launch of the HPT City Conxt series. Designed to showcase the southern Triad's top amateur baseball organization, the HiToms will utilize Truist Point as its second home in 2023 for five marquee Coastal Plain League matchups. In addition, the HiToms organization will also bring their signature American legion squad – the Post 87 HiToms – to downtown High Point for select home contests.
"Although Finch Field will remain our primary home, we feel like it is time for the HiToms organization to showcase its broad spectrum of amateur baseball excellence in a more modern and downtown facility footprint," HPT HiToms President Greg Suire said. "We will still be playing the majority of our home games at Finch Field, however in order for us to diversify our fan base and capitalize on the southern Triad's focused growth we feel like spotlighting marquee matchups at Truist Point will facilitate brand expansion and enhance our player's experience.
The HPT CONXT series will include five HiToms home games and select HPT Post 87 HiToms regular season and playoff contests. The downtown High Point series launches Thursday, June 1 as the Asheboro Zoo Keepers visit the Furniture City for the first time in each squad's Coastal Plain League opener. As a bonus, the inaugural downtown HiToms home game will also feature the Post 87 HiToms. Welcoming Area 3 Northern Division foe Foothills (Mt. Airy), the Post 87's will start game one of the HiToms organization doubleheader at 5:00 p.m. Game 2 of the evening has a tentative start time of 7:30 p.m.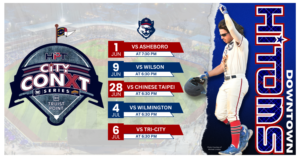 One of the key matchups of the City Conxt Series is the international contest on Wednesday, June 28th between the HiToms and Chinese Taipei. In the United States to play the National Collegiate Team, the Taiwan matchup will be the third visit by an international team to the southern Triad following Team Japan and Team Chinese Taipei's 2015 and '16 Finch Field visits.
"Chinese Taipei's return visit to the HPT area will be a tremendous international baseball showcase and we are thrilled to feature this long-standing world diamond sports power in High Point's modern, downtown ballpark," HiToms President Greg Suire said.
"From the spring of 2021 high school spring season to the last two junior state American Legion championships, the HiToms and Rockers have slowly built a relationship forged on enhancing the HPT area's amateur baseball experience," HiToms President Greg Suire said. And following our successful partnership and August 2022 roll-out of the Mickey Truck Bodies Kick-Off Classic at Truist Point, both parties felt like it was time to feature the Triad's most successful amateur baseball brand in the community's most modern ballpark.
"Anytime two baseball entities can join together, it only makes the sport and the co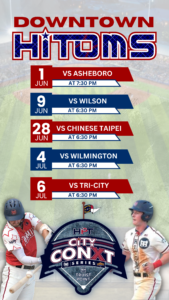 mmunity stronger.  We are pleased to be partnering with the HiToms for some more exciting baseball at Truist Point."
Pete Fisch, Rockers President.
Below is a rundown of the HPT City Conxt Series:
Sunday, May 21: Softball All-Star Game

Thursday, June 1: HPT HiToms vs. Asheboro Zookeepers
Friday, June 9: HPT HiToms vs. Wilson Tobs
Wednesday, June 28: HPT HiToms vs. Chinese Taipei
Tuesday, July 4: HPT HiToms vs. Wilmington Sharks
Thursday, July 6th: HPT HiToms vs. Tri-City
Tickets are available for all five games in the City Conxt Series and can be purchased below and at hitoms.com and highpointrockers.com websites.
–  HPT –