---
Committed to growing the game of baseball, the HiToms summer baseball camps are an ideal way for young ball players entering the game and teenage players advancing on the diamond to receive personal instruction form the HiToms coaching staff and players. Offering a 8 to 1 player to coach ratio, the summer camp lineup features three week-long All-Around sessions and two specialty camps.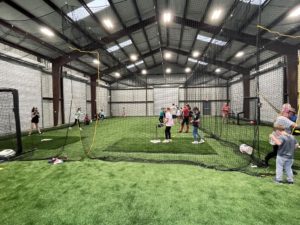 Conducted at Historic Finch Field, our 2023 campers will also have the additional benefit of utilizing the recently opened HiTom City.  Boasting over 5,ooo square feet of indoor training and development space, the state-of the art hitting and pitching complex will play a tremendous role in a camper's development and overall enjoyment.
The All-Around Camp itinerary features a wide-range of baseball skill development from throwing and receiving skills to hitting fundamentals and base-running concepts. The specialty camps will narrow the focus of instruction to the particular discipline with an emphasis advanced learning and a target audience of seasoned players.
---
2023 Development Camp Schedule:
January Speed and Agility Camp: January 10 –  February 2
February Speed and Agility Camp: February 7 – March 2
Spring Break All Around Camp: April 10-14
Summer Camp All Around Session 1: June 12-16
Summer Camp All Around Session 2: June 19-23
Summer Pitcher/Catcher Camp: June 26-28
Summer Hitting Camp: July 10-12
Summer Camp All Around Session 3: July 17-21
Summer Softball Skills Camp: July 17-21
November Speed and Agility Camp: November 1 – November 28
December Speed and Agility Camp: November 30 – December 21
Development Camp Info:
All Spring/Summer Camps are scheduled from 9 am to 12 noon
Player Arrival: 8:45 am @ Finch Field
Campers should wear baseball attire
Please mark (name) all personal belongings: glove, bat, water bottle, hat, etc

Campers will be given a complimentary admission to a select 2023 HiToms home game during camp week.
If camper special needs are applicable: (asthma, physical conditions), please let us know.
Prospect and Showcase Camp Schedule
HiToms Collegiate Recruiting Showcase: August 13-16
HiToms High School Prospect Camp: September 27