High Point/Thomasville – While it ended up being more stressful than it needed to be the High Point Thomasville HiToms found a way to win against the Martinsville Mustangs, using a clutch Mitch Smith (1B/3B – UNC Greensboro) double in the 8th to win 8-5 over Martinsville.
Peyton Schofield pitched four scoreless innings of relief and Bo Rusher's (C – Gardner Webb) 2-run Homer helped to give HPT a 5-1 lead going into the 7th. But with two outs a pair of calls did not go the HiToms way, and the Mustangs managed to tie it at five.
In the bottom half of the frame, the HiToms made two quick outs before loading the bases for Smith. And with two strikes and two outs on him, he laced a double into the left field gap to clear the bases for HPT and give them an 8-5 lead.
Evan Michelson worked a scoreless 8th while Jacob halford worked a scoreless 9th to shut the door on Martinsville and improve HPT to 10-10 on the season.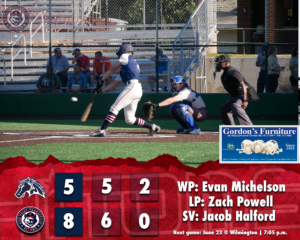 The win was also the HiToms 3rd of the Mustangs in 5 meetings this season, the most of any opponent so far. The HiToms get right back on the road tomorrow to face the Wilmington Sharks, who they beat in the CPL opener on May 27th at Finch Field 5-4. First pitch is 7:05 and Andrew Selover will fly solo again on HiTom radio.