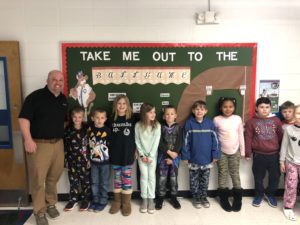 HPT HiToms Launch 4th Year of Read Around the Bases
---
High Point/Thomasville – The High Point-Thomasville HiToms have launched Read Around the Bases for the fourth consecutive school year with HPT area elementaries.
Partnering with Planet Fitness, Jeff Fuller's State Farm in Archdale and Dairi-O, the HiToms are thrilled to bring this educational program to area students.
"The HiToms take great pride in leading our community and providing a pathway for success," HiToms President Greg Suire said. "As the Triad's oldest, summer baseball brand, the HiToms are committed to serving as an inspiration to educational growth."
Focusing on reading acceleration and artistic creativity, Read Around the Bases is a fourth-month long program that partners with area schools to incentivize enhanced reading comprehension: Thomasville Primary, Liberty Drive Elementary, Alan Jay Elementary, Trinity Elementary, Walburg Elementary, Pilot Elementary, Trindale Elementary and Friendship Elementary
The spring semester program culminates Wednesday, May 25th and Friday, May 27th as the HPT HiToms welcome all participants to Historic Finch Field for the HiToms opening weekend.
For an introductory video please check out www.hitoms.com.