Forest City – On Tuesday Night the High Point Thomasville HiToms completed the first of two doubleheaders against the Forest City Owls this week, leaving McNair Field with a win and a loss.
The HiToms dropped the first game of the twin bill 5-3, after Stephen Still (P/Loyola New Orleans) surrendered three runs in the fifth inning of his HiToms debut. HPT could muster only three hits and three runs in the first game, despite Forest City's five errors over just seven innings. Justin Johnson (SS/Wake Forest) was credited with the lone RBI for the HiToms in game one, as the other two runs came across via errors.
Game 2 would be a different story for the HiToms offensively.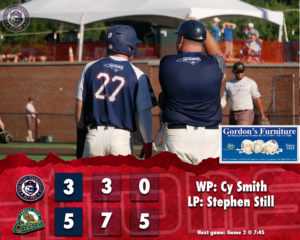 After falling behind 2-0 in the second, the top of the HiToms order went off in the night cap, combining for 11 of the 12 hits HPT would collect. Jose Vargas(IF/Catwaba Valley CC) got the offense going in the 4th, scoring the first of five runs that inning with an 2-run single. Jarrett Brown (3B/Georgia Southern) displayed some much needed pop for the HiToms order, doubling in a run in the 4th inning and unleashing a mammoth 2-run homer over the Monster in left field for much needed insurance.
It was a three-hit, three-RBI night for Brandon Stahlman (IF/UNC-Charlotte) who singled twice and doubled after earning another start at first base. And Eli Weisner (IF-OF/UNC-Charlotte) earned CPL Offensive Line of the Night honors with a 3-3 performance that included a triple, RBI and two runs scored.
Despite the offense there were still tense moments for the HiToms. After opening up a 7-2 lead thanks to the 5-run 4th, the Owls responded with four runs of their own, trimming it to a narrow 7-6 lead for HPT.
However Ethan Snyder (P/Louisburg) came to the rescue out of the bullpen, authoring three and a third scoreless innings of one hit ball on six strikeouts. Snyder's cleanup duty earned him the win and the CPL Pitching Line of the Night.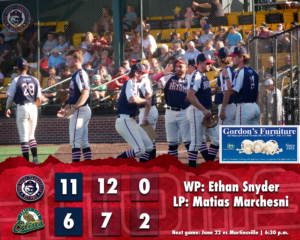 The split of the doubleheader move the HiToms to 9-10 on the season, 5.5 games back of the Savannah Bananas in the West. The HiToms return home briefly after a successful 3-1 road trip, hosting the Martinsville Mustangs Wednesday Night at 6:30 pm.
Value Night is on at Finch Field, where fans can get $1.50 Hot Dogs and Fountain Drinks all night long. Will Trubshaw returns to the booth with Andrew Selover for coverage of the game on HiTomTv via FloSport