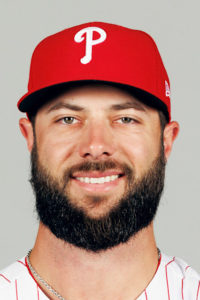 High Point (HPT HiToms – 2014) Native Weston Wilson Gets the MLB Call Up: Former Wesleyan/Clemson Star Shines in Phillies Debut
---
For some, the road to the Major Leagues can be short and sweet, while others may experience a lengthy journey that has plenty of ups and downs. For Coastal Plain League alum Weston Wilson, his road to making his Major League debut with Philadelphia August 9th is an inspirational one.   
A member of the High Point-Thomasville HiToms in 2014, Wilson batted .286 through 15 games. He scored four runs and tallied seven RBIs, while walking eight times, slugging .408 and having a .408 slugging percentage and an on-base percentage of .386.
Taken by Milwaukee out of Clemson in the 17th round of the 2016 MLB Draft, he started his pro career with Helena of the Pioneer League. There, he batted .318 with 38 runs and 38 RBIs. In 2017, he started at Single-A Wisconsin before being promoted to High-A Carolina, where he finished with a .241 clip. Wilson showed more improvement a year later, where he slashed .270/.326/.434 with 65 runs scored and 65 RBIs, and was bumped up to Double-A Biloxi by the end of 2018. 
Continuing with the Shuckers in 2019, he saw his average increase to .267, while he slugged .548 with 28 extra base hits, including 16 home runs. Everything was going smoothly heading into the 2021 season. Spending the year with Triple-A Nashville, Wilson continued to be a consistent bat in the lineup, swinging .267 with an on-base percentage of .354. But during batting practice on August 3, he noticed swelling in his arm. While playing in the game that night, the swelling persisted, leading him to see the doctors. A venogram revealed that he had a five-inch blood clot – one that his doctors said could have been fatal – in his right shoulder, bringing his 2021 season to an abrupt halt. 
After undergoing thoracic outlet surgery as a preventative measure, Wilson rehabbed and returned to play sparingly in the Arizona Fall League. The following season, he was back with the Sounds, but his average (.228) suffered as compared to what they were before his surgery as he found himself putting added pressure on himself. 
In the offseason, he worked on his lower body and made a few adjustments to his stance. Then, signing a minor league contract with Philadelphia gave him a new opportunity. He was invited to Spring Training for the first time in his career. In 20 games, he slashed .289/.400/.526. Such improvement saw Wilson start at Triple-A Lehigh Valley. He was batting .260 with 43 extra base hits with 67 runs scored and 69 RBIs before joining the Phillies. 
Then came his debut. Despite his lengthy journey that included 2,836 minor league plate appearances, Wilson saw his patience pay off. Starting in left field, he wasted little time proving that he belonged on the big stage, as he drove a ball deep to left-center field during his first MLB at-bat for a solo home run in the second inning. He finished 1-for-1 with a pair of walks, three runs and an RBI on a night that is sure to be remembered. 
"When you think of class, perseverance, hard work, determination and role model: Weston Wilson is exemplary of all those adjectives and much more," said former Wesleyan Christian Academy and HPT HiToms Head Coach Scott Davis. "I am so proud to have coached such a fine young man. The Philadelphia Phillies will see first hand by the impact this young man will have on their organization both on and off the field."
By homering in his first at-bat, Wilson became the first Phillies rookie since Marlon Anderson on September 8, 1998 and the 134th player in MLB history to accomplish that feat. Furthermore, when he stole a base later in the game, he became the first Phillies rookie to hit a home run and steal a base in their first Major League game, and the league's 13th player to do so in the modern era. 
Overall, Wilson becomes the HiToms 23rd former player to reach the Show and the fourth this summer.

contributing to story: Justin Sellers, Coastal Plain League Deputy Commissioner