High Point/Thomasville, NC – The High Point-Thomasville HiToms are bringing back local baseball to our community in 2021. The HiToms are a primary source for baseball talent in the Triad, with a Legion program for ages 13+, and a successful Coastal Plain League team. The goal for most of these youth players is to progress to the Coastal Plain League. In 23 years, the HiToms are three-time champions, and six-time division champions of the best collegiate summer league in the southeast.
After a division title in 2020, the HiToms are expecting a robust crowd at Finch Field this summer. We're providing our local businesses with brand new Business Plan ticket packages. These packages are flexible to the needs of your company, with 50 total tickets to be used for any of our 34 home games in 2021. From there, our three plans diverge.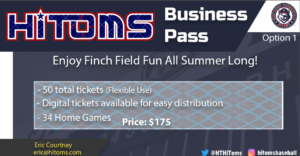 Option 1 is includes 50 flexible-use tickets, sent digitally to your business. These QR code-based tickets are easily sent to anyone in your group, and can be used for any home game in our 2021 schedule, including our Legion games. Option one saves your business 40% off the normal ticket price, with 50 tickets for $175.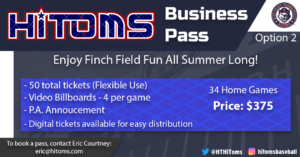 Option 2 adds in advertising to the 40% ticket deal. For $375, your business will be advertised to the fans each night at Finch Field, with four video billboards on the concourse plus a P.A Announcement to get the word out about what you can provide to the HiTom faithful.
Option 3 brings you the most bang for your buck, bringing you into Finch Field as a main sponsor. You get the 50 flexible-use tickets, video billboards, a P.A. announcement, plus a sign on the concourse. This package will surely attract the attention of fans at Finch Field.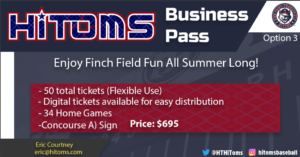 We're pleased to be a part of this community, and we'd like to continue bringing fun, local baseball to Finch Field for years to come. Support from our local businesses is what keeps our organization running smooth into the future.
Business Passes
Option 1 $175.00 USD
Option 2 $375.00 USD
Option 1 $695.00 USD