Looking for an outing for your summer camp, child care center, or church group? Look no further than Picnic in the Park!
The HiToms host two Picnic in the Park games each season - special games held exclusively for local child care organizations and other children's groups. Both games are held at 11:00 a.m., with all attendees receiving a hot dog, chips, and drink with the price of admission.
We would love to host your group at our 11th annual Picnic in the Park! Contact Eric Courtney ([email protected]) to schedule your group for the 2021 summer!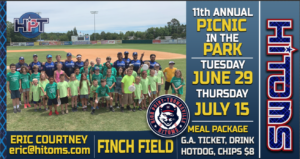 To purchase, visit the HiToms front office at 7003 Ball Park Rd or give us a call at (336) 472-8667.