Join the Holiday Fun!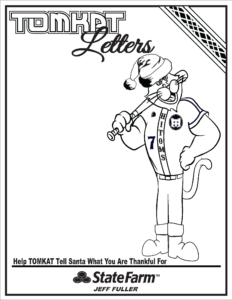 2021-22 Read Around the Bases
Tell TomKat What You're Thankful For
---
The HPT HiToms are inviting all of their fans to turn the tables this year on the traditional Santa Claus Letter by telling TomKat what you're thankful for.
Complete the TomKat Letter below and deliver via e-mail: [email protected] or drop off at that the HiToms Holiday Window on 39 Salem St. Oh, when you drop the letter off in front of the HiToms Holiday window TomKat has a sweet surprise for you!
---