HiToms to Host 2nd Annual Triad Prep Baseball All-Star Classic on May 25
---
High Point/Thomasville, NC – The High Point Thomasville Hi-Toms are proud to host the second annual Triad Prep All-Star Classic on May 25th at Historic Finch Field. The contest will feature two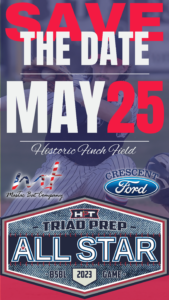 teams, Triad East and Triad West, with rosters of 20 players each (seniors/2023 graduates only). The rosters and coaching staffs will be selected from Guilford, Randolph, Davidson and Forsyth counties in a showcase of the Triad's best high school baseball talent.
As co-creator of the event, the HPT HiToms envision the Prep Classic as another opportunity to expand collegiate playing opportunities for HPT area youth and broaden its community outreach.
"The Prep-All-Star game aligns with our existing youth initiatives," HiToms President Greg Suire said. "From sponsoring the American Legion program to hosting spring scholastic classics to championing the elementary school Read Around the Bases curriculum, the HiToms are laser focused on enhancing the lives of our young people. As our organizational evolution continues, the primary mission of our franchise has now become the development of our community's future leaders."
Players selected will get the full All-Star treatment, complete with social media coverage leading up to the event, a pre-game meal, commemorative t-shirt, All-Star Headshot/poster, consideration for Triad Area Player of the Year and All-Star Game MVP honors post-game.
Rosters will be announced May 10th, and a pre-event workout/practice will be held shortly before the game.
Follow all of the player reveals on the HiToms social media channels and hitoms.com