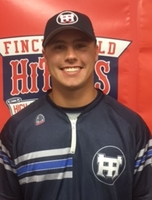 Brad Jarreau
Assistant Coach
Phone:
615-594-9496
E-mail:
Brad Jarreau is entering his first season as a coach for the HiToms.
Last year Brad played for the HiToms, as the team they went 30-25 overall. He made 36 starts in 2016 and had a batting average of .288. In 146 at bats, he had 42 hits and came around to score 29 times. He had a .1000% fielding average and a 50% stolen base percentage.
Jarreau played at Middle Tennessee State from 2014-2017.
In 2015, Jarreau earned second-team All C-USA honors as an outfielder … Started all 59 games in right field … Sixth in C-USA for batting avg. (.338), fourth in hits (81), ninth in runs scored (45) … Had at least one hit in 49 of 59 games … Clutch performer hit .400 with runners in scoring position … Was 15-for-15 with runners on third and less than two outs.
In 2016, Jarreau made the preseason All-Conference USA selection … Second on team with .298 batting average … Started all 55 games in center field … Made just one error in 143 chances … Collected 18 multi-hit games, including six of three hits or more.