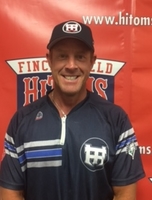 Doug Welch
HiToms Assistant Coach
Phone:
336-472-8667
E-mail:
Doug Welch is currently in his 22nd year as the head baseball coach at RJ Reynolds high school in Winston Salem NC. Welch, at native Texan, came to North Carolina in 1990 when he was in the Chicago Cubs minor league system playing for the Winston Salem Spirits and later the Charlotte Knights.
Coach Welch's baseball career began at Lubbock Monterey High School (Lubbock Texas), home to legendary coach Bobby Moegle--winningest coach in Texas high school baseball history.
In 1985, Coach Welch was recruited by Larry Hays (another Texas coaching legend) of Lubbock Christian College where he committed and was a 4 year starter. While playing for LCC/LCU, Coach Welch was named MVP for the Chaparrels in 1989, All-American two times, and Academic All-American in 1989. Also in 1989, Coach Welch was named semi-finalist in the GOLDEN SPIKES AWARD (top 30 players in the country--only NAIA player nominated).
In 1989, Coach Welch was drafted by the Chicago Cubs and played 5 seasons. In those 5 seasons, Coach Welch earned 2 MVP honors, 2 batting titles, and was named to the Carolina League All-Star team in 1990.
Coach Welch completed his Bachelor Degree in Biology from Winston Salem State University. He now teachers Earth Science at RJ Reynolds high School and is the head baseball coach with a reputation for fundamentals, discipline and endless energy.
Coach Welch is happily married to Robin Welch of 24 years. He has 2+ children, Logan Welch and Crystal McAnaw + son-in-law Patirck McAnaw. Coach welch is proud G-pa to 4 beautiful grandchildren, Caralina, Zander, Trinity, and Zion.