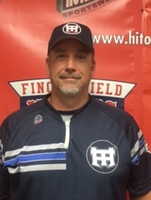 Brian Rountree
High Point-Thomasville HiToms Vice President of Player Development & Sales/Marketing
Phone:
336-472-8667
E-mail:
Brian Rountree enters his fourth season as Head Coach and Vice President of Player Development & Marketing/Sales for the 19-year old Coastal Plain League franchise.
Serving as Louisiana Tech's pitching coach and recruiting coordinator from 1995-2014, Rountree's coaching prowess resulted in 15 Bulldog pitchers being drafted or signed as free agents since 2003. Of the 14 players drafted, three pitchers were selected in the first 30 rounds of the 2008 draft. In all, six players from Tech were drafted in 2008(single-season La Tech record): Adam Cobb, Albie Goulder, Luke Burnett, Jericho Jones, Alan Knotts and Dylan Moseley.
In 2007, Rountree helped mold a Bulldog staff that tied a five-year-old school record for most strikeouts in a season with 452 and had two, all-Western Athletic Conference selections in Andrew Alsup (first team) and Dylan Moseley (second team). In addition, he also helped lead Burnett to the WAC strikeout title as he fanned 115 batters on the season while allowing a .221 opponent's batting average, also a league-best.
In 2002, Rountree's pitching staff posted Tech's lowest team ERA since 1993 at 4.71 despite playing nine games versus teams that advanced to the College World Series.
Prior to coming to Tech, Rountree spent four years as an assistant at the University of South Carolina. A 1990 graduate of USC, Rountree pitched two years for the Gamecocks and led USC in starts and strikeouts both seasons. A captain of the 1989 squad, Rountree recorded 13 career wins and a single-season strike-out total of 125 (1988) that still ranks as seventh best on USC's single season total.
Rountree transferred to USC after a standout career at DeKalb Junior College in Georgia. While at DeKalb, Rountree earned All-America honors as a sophomore with a 12-1 mark and a 0.78 earned run average. He was also named 1987 Georgia Junior College Player of the Year.
Drafted in 1989 by the Detroit Tigers, Rountree spent two years in the Tigers organization making stops in Bristol (Tenn.) and the South Atlantic League's Fayetteville (N.C) Generals.
Rountree is married to the former Kim Dupree of San Diego, Calif. has two daughters, Kaysee and Shelby Griffith.