2017 HPT HiToms BASEBALL CAMPS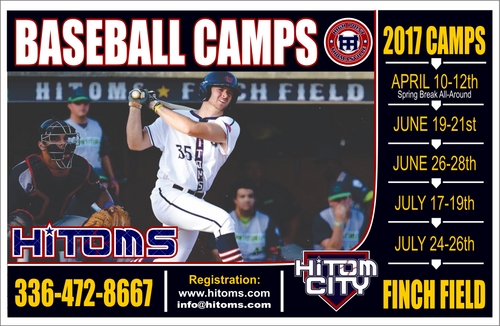 The HPT HiToms Summer Baseball Camps
Committed to developing versatile and 'athletic' baseball players, the High Point-Thomasville HiToms are pleased to offer a unique, summer baseball experience. Providing fundamental instruction and development in the areas of throwing and receiving skills, position fundamentals, hitting techniques and baserunning the three day sessions are an ideal opportunity for emerging athletes to receive quality instruction and necessary physical skill development. Conducted by HPT HiToms Head Coach Brian Rounree, his staff and HPT players, the summer, instructional camps target young athletes from the ages of 8-13.
Assisted by the HiToms staff, attendees will focus primarily on the development of skill sets that lay the foundation for in-game quickness and physical strength. Benefiting significantly from a staff that boasts over 20 years of college/high school level training experience, all attendees will gain a sense of self-confidence that inspires physical growth and dispels mental blocks associated with speed enhancement.
Conducted in a 8-1 student to teacher ratio at the Hepler Strength training facility, the hour-long sessions cater to both the speed & strength 'rookie' and the 'seasoned veteran'. Encouraging participants to embrace the 'game' and all of its finer skill sets, the pre-season camp is the perfect compliment to a ballplayer's incremental growth.
Registration begins December 28th and concludes January 23rd.
Speed & Strength Training Curriculum:
Speed & Agility
Explosiveness
1st Step Quickness
Linear /Lateral Speed Training
Arm Strength
Training Sessions:
Start Date: January 24th
Tuesdays/Thursdays
Time: 5:45 - 6:45
Location: Hepler Speed & Strength Facility, 1064 National Hwy. Thomasville, NC
Camp Costs
Contact Information
E-Mail Brian Rountree, HPT HiToms VP: tree@hitoms.com; info@hitoms.com
Phone: 336-472-8667 or 336-893-0736
@HTHiToms